Southeast Overland & Offroad Expo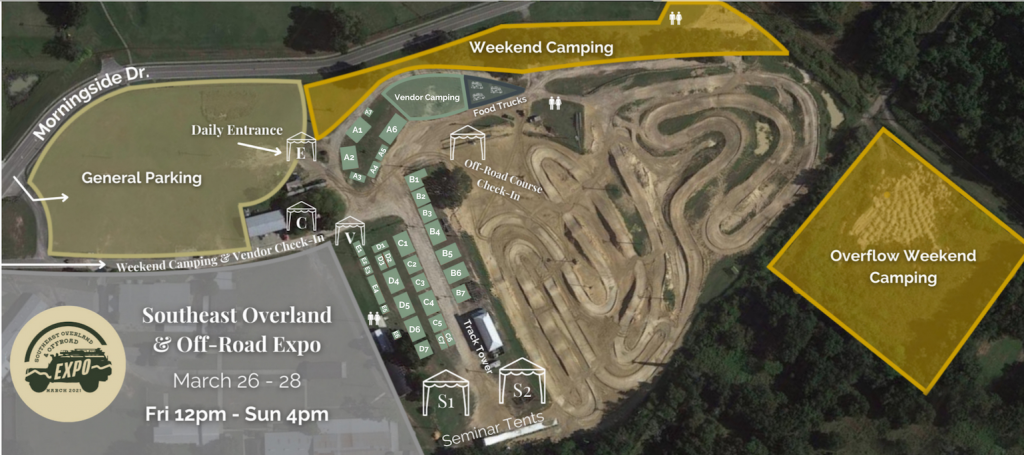 The Dade City Raceway is part of the Pasco Fair Association venue, located on 40 sprawling acres along State Road 52 in western central Florida.  The popular event venue hosts numerous large events each year and has a long history, dating back to 1947. The Dade City Raceway is in a fantastic location on the Gulf Coast of Florida, just north of Tampa.
Pet friendly (see our pet policy below)
Hard pack, gravel and grass surfaces in vendor and camping area
All attendee parking on-site
Food trucks on-site
LOCATION AND HOURS
When: Southeast Overland & Offroad Expo 2021 — March 26-28, 2021
Public Hours: Friday 12pm – 5pm • Saturday 8 am – 5 pm • Sunday 9 am – 4 pm
Location: Dade City Raceway – 36722 State Rd 52, Dade City, FL 33525
Ways to Attend: We offer multiple ways to attend our expo. Single Day Passes all you attend for one day only, on your date of choice. Weekend Camping Passes provide you the opportunity to attend any time between Friday and Sunday, with access to the camping area. Passengers must purchase tickets as well, which allows access to the show Friday through Sunday, as well as the camping area. Children 12 and under are free. Tickets can be purchased on site, electronic payment is preferred.
Parking: All parking will be on-site at the Pasco Fair Grounds – spectator parking is $5 per vehicle.
Food Options: We will have a variety of food trucks on property, please bring cash/card.
Pet Policy: Dogs are allowed on property, but must be leashed at all times. Dogs must be friendly, quiet, and kept under control. We reserve the right to request any dog to leave the premises if they are unsafe, a disturbance, disorderly or unleashed.